Hidrostal changes up a gear with EMIR!
31/03/16 Hidrostal changes up a gear with EMIR
In early 2013 Hidrostal found itself with a very common yet difficult decision. The software that it was using to run its business (that had been built as a bespoke tool) was not meeting the changing needs of the organisation. At the very least a major overhaul if not an entire rebuild was required in order to allow the improved processes identified by the management team to be implemented.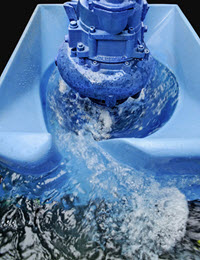 Hidrostal Ltd is the UK based sales company for Hidrostal AG, a renowned Swiss pump manufacturing business that was formed in 1987. Hidrostal Ltd bring bare shaft pumps from Switzerland to the UK and customise them to specification. This includes the fitting of seals, local manufacture of drive assemblies for vertical sump pumps, fabrication of baseplates for horizontal units and assembly to UK procured motors and couplings. The complete customised pumps are then shipped to the final customer.
The company remains one of the few dedicated and specialist waste water pumping businesses left in the UK, alongside its sister company, Bedford Pumps Ltd, a specialist manufacturer of large submersible and conventional pumps to the water and wastewater market, acquired by Hidrostal in 2014.
From standard off the shelf products to complex bespoke design solutions, the combined specialist engineering knowledge from the two companies ensure that any pumping need within the water, wastewater and industrial markets can be fulfilled with a complementary range of pumping solutions from 0 to 12,000 litres per second.
Hidrostal Ltd operates as a supplier, designer and installer of fit for purpose pumping solutions. In addition the company offers workshop repair, site maintenance and hire and service to support our wide installed base of versatile products.
Faced with an investment of over £100k to get the existing IT just to a position where new programming could be started, Hidrostal started to look to at other packages and alternatives. It quickly became clear that the business did not fit neatly with any of the tools on the market. "The high end ERP tools such as SAP were clearly a step too far and without massive customisation would never have fit our business needs." said Finance Director Annette Boulter. "The smaller tools on the other hand were just not up to the complexity needed". A routine visit to one of the companies that Hidrostal worked closely with, WGM Engineering, introduced Hidrostal to EMIR ERP which is specifically targeted at companies in the pump and motor industries.
Targeted Software
The main thing that attracted Hidrostal to EMIR was that it was designed by, and for, companies in the same industry. Annette explains "What we saw was a programme that fitted with our business needs and could be made to fit our operational needs with virtually no modification. This is what appealed to us the most, given our previous experience of a bespoke system where a lot of modifications were required and where those modifications sometimes took months to implement. The plug and play nature of the tool was the main draw. This enabled us to make real changes from the very moment that we started using the system."
Hidrostal made the decision to invest in EMIR Pro, complete with the full Finance and CRM modules. Because the software is specifically built for the pump and motor industry most of the modifications that would be needed to fit Hidrostal's business processes were already inbuilt. In addition, because companies in similar trades were working with EMIR to continually develop the programme, it represented combined best practice throughout the industry.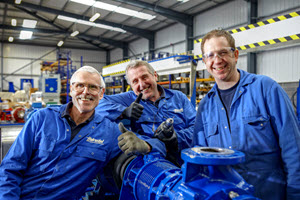 Instant Efficiency
Hidrostal's EMIR system replaced not only the old bespoke ERP system but also Sage Accounts and ACT contact database. The move to a single IT system significantly improved efficiency in removing duplication of entry and also increased the integrity of the business information. The system went live in January 2014 and after the initial bedding in period the effect of having single data entry and one data repository could be seen. "Headcount savings were able to be made almost immediately, but more importantly all of our other staff could be freed up from administration and focus on value added activities, improving quality and timeliness of service to our customers".
In addition a single source of data entry, from the original quote all the way through to final delivery ensures that the errors which can occur from multiple data entry is eradicated.
Hidrostal Flexibility
Hidrostal's product range is extremely flexible. The company founder, Martin Stähle, invented and patented the single vane screw centrifugal impeller almost 50 years ago. This impeller offers the best free ball passage without a compromise on efficiency, and a variation of this impeller is incorporated into every pump the company makes in order to solve specific pumping problems.
Due to the extended product range the company is famous (if not infamous) for the length of the part code for the pumps it sells and this is because the configurability of the range. With over 10,000 combinations of components it was historically almost impossible to create pricelists. Before the system was implemented Solutions in IT were able to make fast changes that allowed Hidrostal to work with part numbers of up to 50 characters, easily encompassing the pump codes needed. In addition to this the EMIR stock system allowed individual parts to be easily added as an upload from a csv file.
The Hidrostal stock part system now holds over 20,000 parts, each of which can be configured to have a specific price for a given customer. This has been invaluable in setting up framework agreements with customers who require fixed pricing for a number of years where standard sales prices may change from year to year. In a standard system this would be an administrative nightmare, in EMIR it is a simple update.
Data no longer for ransom
In Hidrostal's previous ERP, reporting was limited and because each of the accounting, CRM and job management systems were separate it was a full time job ensuring that the data in each was consistent. This made reporting and analysis a very difficult task.
"The problem with so many systems is that whilst they operate efficiently in their own right they only produce reports that are in pdf format or even worse just screen shots that cannot be used elsewhere. The joy of EMIR is that virtually every screen can be downloaded to Excel or csv and then used for further analysis. This has provided Hidrostal with some real advantages in understanding trends and in providing key business insights."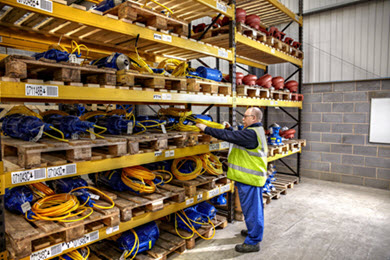 Paperless Finance
The Holy Grail of Finance has always been to move to a paperless department. With EMIR Hidrostal has been able to achieve this in just 12 months.
Throughout history Finance Departments have been a hub for paperwork and endless rows of files, mostly of purchase and sales invoices. In this day and age many, if not most, suppliers prefer to invoice electronically, saving paper, printing and post and ensuring that the invoice actually reaches who it needs to. Many Finance Departments however still find themselves carrying on in the old way of doing things which actually means printing out the invoice as it arrives to allow it to be processed and filed. At Hidrostal, with EMIR, this has been eradicated.
All suppliers are encouraged to send invoices in electronically in pdf format, and for the few who cannot the paper invoice is simply scanned to pdf then recycled. Data entry is simple with a dual screen workstation (simple to set up on most PCs) with the invoice on one screen and the EMIR data entry on the other. EMIR assigns an internal invoice number under which the pdf is then saved (in designated folders) at which point the invoice is available to see within EMIR and the pdf can be opened from EMIR itself to view the invoice whenever needed.
In this scenario the Purchase Order drives the process and the person setting the order decides the nominal code to which the expenditure will be assigned (confirmed when the PO is authorised). The invoice is only cleared for payment when it completely matches the PO. A weekly team meeting is all that is needed to check which invoices have not been cleared and to agree the actions to ensure they are matched and subsequently paid.
Where many companies use their paper invoices (filed under the date to be paid) to manually create their payment runs, this is done automatically in EMIR. Hidrostal pay their suppliers weekly and EMIR proposes the payments to be made based on the agreed terms with the supplier and the date of the invoice. Of course invoices can be put on hold and suggested payments changed, but Hidrostal find little need to do this because all problems are dealt with as soon as the invoice arrives, rather than when payment is actually due. In addition EMIR knows that the Hidrostal payment run is on a Friday and will suggest all invoices with a due date before the following Friday should be paid, ensuring that all supplier invoices are paid on or before their due date. This instils both trust and predictability into the organisation's relationship with their suppliers, and helps create the basis for a real working partnership as opposed to withholding payment until the paper reminder comes through, as so many firms do.
What enables this is the excellent credit control in place at Hidrostal, enabling Cashflow to be fed down to the supply chain. This is achieved through excellent staff but enabled by the debt chasing facilities and the data provision in EMIR. It is very easy to see which customer's invoices are overdue and customers who have gone over a set number of days late are put on stop immediately. This ensures that bad debt is almost unknown and old debt is tiny.
With electronic sales invoicing, purchase invoices held as pdfs, and online banking, Hidrostal had its first all-electronic audit at the start of 2016. Instead of vast amounts of time spent finding paper evidence the auditors were instead given access to the Hidrostal Cloud Server and access to EMIR itself. This allowed them to pull their own evidence from the accounts system with minimal input from Hidrostal's staff. "What we found was that the enquiries within EMIR were so straight forward that the auditors simply figured out where to get the information themselves, without having constantly to ask for evidence and copies of invoices. This saved hours of time on our part. So much so that we are even considering undertaking the audit remotely next year." confirmed Annette Boulter FD.
"The move to an electronic Finance Department has not made us completely paperless but has led to 99% less paper, which in turn has led to less storage space being required and the ability to outsource much of the transactional Finance activity. The efficiency of the department and the happiness of our suppliers has increased tenfold."
Hidrostal Ltd is delighted with the way that EMIR has revolutionised their business. In today's busy world the importance of efficiency cannot be underestimated. The time that has been saved by streamlining Hidrostal's business process with EMIR frees up more time to focus on the company's main strength, ensuring that any pumping need within the water, wastewater and industrial markets can be fulfilled.
Related Links and Downloads