New Customer - Highnett Controls
10/03/16 EMiR welcomes Highnett Controls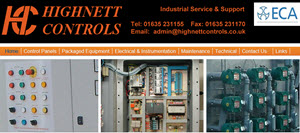 Originally formed in 1978, Highnett Controls have depth of experience in all aspects of electrical, instrumentation and control systems. The Company was incorporated in 1994 and now trades as Highnett Ltd trading as Highnett Controls. Having expanded into the petrochemical environment and now carries out a full range of electrical, process and pneumatic installations and servicing for refineries, steel and water works and off shore installations.
The Company manufacturer's control & instrumentation systems as well as carrying out electrical and mechanical installation, maintenance, and routine machine servicing and repair for industry.
Working in close contact with customers and end users, Highnett Controls provide total solutions from design through to completion and on site commissioning.
Highnett Controls have chosen to use our flagship product, EMiR Professional with 5 users, the Basic System (sales & purchase ledgers and Job Costing), Stock Control, Purchasing and Sales Quoting.
The EMiR team welcome Highnett Controls to our customer family and we look forward to working with them.
Click the link below to visit their web site....
Related Links and Downloads