PIA - Pump Industry Awards 2015
31/03/15 PIA – Pump Industry Awards 2015 Winners Revealed
The EMiR Team would like to congratulate all of the winners and runners-up in this years Pump Industry Awards. The Electro-Mechanical Industry is credited with many talented and innovative companies and individuals and the PIA celebrates their success.
…and the Winners are: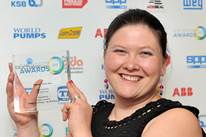 (Above) Engineer of the Year - Emma Lambert, ClydeUnion Pumps.
Technical Innovation of the Year – Products, sponsored by KSB
Awarded to The Grundfos GO Remote
Technical Innovation of the Year – Projects, sponsored by Process Industry Informer
Awarded to Neptuno Pumps for Improving Performance of Minera Collahuasi's Water Pumping System
Environmental Contribution of the Year, sponsored by SPP Pumps
Awarded to KSB Ltd & Kier for Pump as Turbine in place of Pressure Reducing Valve
Manufacturer of the Year, sponsored by AESSEAL
Awarded to Clydeunion Pumps - An SPX Brand
Distributor of the Year, sponsored by WEG Electric Motors
Awarded to Drilling & Pumping Supplies
Supplier of the Year, sponsored by Tomlinson Hall & Co
Awarded to WEG Electric Motors (UK)
Engineer of the Year, sponsored by World Pumps
Awarded to Emma Lambert of Clydeunion Pumps - An SPX Brand
Lifetime Achievement Award, sponsored by BPMA
Awarded to Bob Went