Lessons on the Triangle of Service 2
Simplifying Labour Scheduling...This is a blog continuing the exploration of the guide 'Gaining a Competitive Advantage Through the Triangle of Service'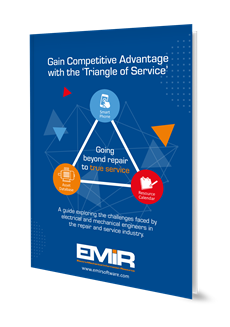 Effective labour scheduling in the electro-mechanical industry can improve your workforce agility, particularly for electrical and mechanical engineers. While whiteboards or spreadsheets have become a go-to option for many businesses wanting to outline the rota for their operations team, there are some roadblocks with these traditional labour scheduling methods.
What's more, delivering good service means your teams are able to act quickly, respond to ad-hoc service requests, and manage labour scheduling both proactively and reactively.
Our 'Triangle of Service' guide outlines our three key pillars for repair firms looking to maintain the best possible level of service and retain exceptional client relations for the long term. In case you haven't had a chance to read the guide, we've put together this blog series to give you a bite-sized breakdown of the topics for true customer success. In this blog post, we examine the importance of labour scheduling.
Is it time to ditch the whiteboard?
Planning tasks, production schedules, and resource capabilities isn't always easy, particularly when your operations team and the client have high quality and delivery expectations with regards to repair times. It's not uncommon for team leaders to stick to what they know and manage their own solution to plan out the daily workload.
With many operations teams still turning to the humble whiteboard to map out resource scheduling, workload plans are visible, but only to those that are physically present.
Adopting a more digital management system could allow broader visibility not just to your operations team, but for the wider workforce, partners, contractors, customers, and other stakeholders. This means anyone with an invested interest could benefit from the live status of their repair jobs.
A more up-to-the-minute view of a current job status could help your business to deliver a more agile and responsive service, allowing you to communicate more efficiently and make more informed decisions that benefit your team, your customers, and your bottom line.
Why better communication is key
Whether it's a delay in the delivery of new parts, a change in the nature of a fault, engineers and operations teams have to be prepared for fluidity in terms of adjusting their approach and reacting to ever-changing circumstances.
Responding to last-minute changes in the schedule can be a make-or-break situation for your business, and communicating effectively is a crucial aspect in scheduling resources that enable you to reach optimum efficiency. Updating customers late or delaying information could lead to a bad reputation when it comes to your levels of service.
All this, along with the pressures on businesses to differentiate their service offering, means adopting a new integrated business solution should be a key consideration for the future of repair and service industry businesses.
Future-proofing your business in this way not only arms your workforce with more accurate information but also allows your customers to see an at-a-glance status of all work in progress, which could subsequently change the game for your customer relations.
This could allow you to retain your reputation as an efficient, professional business that delivers first-class service, well into the digital age.
For more details on the Triangle of Service, download the guide now by clicking HERE, or stay tuned for the next instalment on our blog.