Lessons on the Triangle of Service 3
On-site cost capture... This blog is a continuation of the guide 'Gaining a Competitive Advantage Through the Triangle of Service'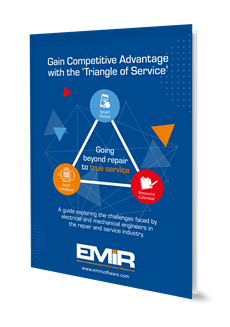 The third pillar in our ultimate guide to great service is on-site cost capture. Last but definitely not least, this aspect of our Triangle of Service helps your service business drive a better, more seamless experience for your clients.
Awareness of the fact that long-standing client and technician partnerships can be fractured by poor communications or a simple issue that's been overlooked is a starting point for businesses looking to fine-tune their service operations by making use of the right tools to help drive better service and client longevity.
Our 'Triangle of Service' guide outlines some of the fundamental contributors to great service. The guide outlines the three key elements used by repair firms to manage a seamless service process and maintain exceptional client relations.
If you haven't downloaded the guide yet, here's a snippet on our on-site cost capture function.
Site engineers and business processing - managing the disconnect
It's important to remember, an efficient service and repair business is not bound by a single location. Information needs to therefore be accessible in the office as well as on-site, ideally in real-time, so all workers have what they need to function as a disparate but effective team. At each stage of working with your clients, key information is generated, all of which is critical to the process.
Transferring key information from on-site operations back to the office can sometimes be problematic and is often delayed. Transparency and data are needed to keep all members of your workforce connected, enabling them to react and pre-empt the next task or necessary action.
Likewise, site engineers must be armed with information, led by customer instruction and their scheduling team, meaning details of every job must be issued in a timely manne and recorded effectively by the engineer at every stage of the process.
The problem with paperwork
When businesses look to improve their service standards, the bottlenecks and delays caused by documentation are high on their list of priorities.
Particularly for those charging clients on a pay-as-you-go basis, businesses must focus on providing their account teams with the key information for invoicing as quickly as possible. This requires accurate appraisals of the jobs that have been completed. Even if work is conducted under contract terms, businesses must highlight the importance of continuing to accurately record, store and document maintenance work so that this can be reported efficiently to the client.
With a number of different paperwork designed to report legislations, help maintain standards and document the work carried out, workers must find an efficient way to manage a high volume of paperwork. Businesses that depend on physical documentation and manual movement of information are more susceptible to inaccuracies, delays and discrepancies as part of an endless collection of forms and reports.
Streamlining out-of-hours operations
With many critical callouts placed outside of official office hours, businesses must still adhere to the same processes around official documentation and compliance. Without the support of their office-based colleagues, engineers must take care of the paperwork by themselves. This means processes must be put in place to ensure information is effectively captured and recorded, with invoicing of time and parts appropriately accounted for.
Real-time recording of information becomes even more crucial at times when the office is closed, enabling engineers to feel confident they have abided by the compliance regulations and processes, and office staff are kept in the loop with accurate information on every repair job.
With mobile data capture in real-time, nothing slips through the cracks in terms of your paperwork hold-ups, and you can ensure invoices are accurate. As smartphone apps become part of everyday life, businesses can benefit from the opportunity to become more mobile, agile and reactive in every aspect of their on-site cost capture processes.
With our simple mobile-enabled solution, your on-site engineer teams and office-based personnel benefit from a seamless flow of information internally and externally, meaning you avoid the overflowing paper trays, excessive need for manual signatures and late amendments.
For more details on the Triangle of Service, download the eGuide now, or stay tuned for the next instalment on our blog.