EMR Silverthorn Case Study
Established in 1970 EMR Silverthorn based in Wembley, North London have been providing a range of high quality products and services including electric motors, pumps, fans, gearboxes, bearings filters, belts, chains, inverters and control panels.
Hollywood supplier uses EMIR to create Red Carpet Service
It takes more than producers, directors and actors to make great Hollywood movies. How many companies do you know do you know have supplied, serviced and supported such blockbusters as Who Framed Roger Rabbit, Harry Potter, The Mummy, Tomb Raider, Black Hawk Down, Cliff Hanger, Lord of the Rings, Mission Impossible, Gulliver's Travels, War Horse and many of the Bond movies, well I do!
EMR Silverthorn of Wembley – that's who?!


…and what is this speciality that EMR Silverthorn has that so many great movies rely on?


Simple. EMR Silverthorn are in the business of service and keeping things moving!

New Products or complete refurbishment
Whether a customer is looking for expertise in a new installation, wanting to restore existing equipment to work more efficiently or replace an aging solution with state-of-the-art motion technology then EMR Silverthorn is best placed to meet their requirements. As Managing Director, Chris Fletcher adds "Our base of loyal clients is testament to the depth of experience we have as a company. Grounded in electro-mechanical engineering our company focusses on the quality of service it provides at a price point that our customers can work with…and that's why they keep coming back."

Keeping abreast of technology and accreditations
Continual investment in training and quality systems means that as a business EMR Silverthorn are well versed in the latest procedures and constantly review and assess their quality assurance qualifications including BS EN ISO 9001, 9002, 14001, 18001 with specialisms in the field of workshop repair, dynamic balancing, vibration analysis, laser alignment, thermography and test facilities.

Hollywood deadlines demand on time service
"The customer provides the concept and what has to be achieved and our engineering department has the freedom to create a solution within budget and on the day it all has to work, no excuses." Colin Thomas, EMR Silverthorn's Operations Director explains relationships in the film industry are born and maintained on your ability to solve the problem.
Having the right quality processes behind the business is one answer to the conundrum of creating high quality service, the other element are the processes that tightly control each job from its consultation phase through to delivery and post sales service.

With so much important work in the system at any one time, EMR Silverthorn couldn't produce the schedule of completed work using a paper-based process. There simply wouldn't be the visibility to deliver each individual element in time, especially where a requirement can change at a moments notice and decisions have to be made from a wealth of recorded data.

EMIR & Smart Site at the centre of EMR Silverthorn's service provision
EMIR, short for Electro-Mechanical Information Resource is a business management software solution that sits at the heart of EMR Silverthorn, a single point of entry for all elements of the business. From the moment the enquiry is received, every aspect of the work, the equipment to be used, even each element of specialist labour is recorded in EMIR and each member of the team has full visibility over the status of the enquiry and all associated job costs.
Like all great service businesses, EMR Silverthorn's engineers aren't all office based, so the information just doesn't reside on a PC network. Work is routed directly to the Android smartphone of users out in the field presenting each engineer with a job list.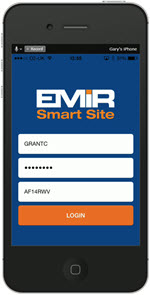 EMIR Smart Site, launched in 2015 directs the engineer to sites using Google Maps, lets them see every aspect of the work to be undertaken and importantly, allows the recording of time used on the job and any additional materials. The office installation of EMIR is kept up-to-date by synching the information held on the app when an internet connection is available. The engineer can also complete vital safety and service checklists and Smart Site importantly captures the Customer's on-screen sign off, so that invoicing takes place without delay.
"Use of clever technology like Smart Site eliminates the need for paper work and keeps the whole company informed of the working status of each job and how profitable they really are. There are no delays in getting this information and no paper to process", explains Gary Downes, the Managing Director of EMIR software authors, Solutions in I.T. Ltd.
System: EMIR Professional
User Licences: 7
Modules: Logistics Bundle (which includes Basic, Purchasing Stock, Quoting) and the Financial Interface
Extensions: Smart Site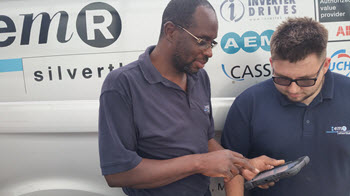 EMIR and the Electro-Mechanical Industry
Although diverse, the electro-mechanical community has a similar set of needs and priorities. Whether they aspire to excel in the repair & service sector, assembly & manufacturing, sales & distribution or hire EMIR is written in a modular format to satisfy those needs. Over 22 years of development have culminated in a product that EMR Silverthorn use to great effect, helping them to attract some of the biggest names in Hollywood!