Fazakerley Rewinds Ltd, Liverpool
Fazakerley Rewinds Limited have over 45 years experience within the electric motor repair industry and pride themselves by specializing in providing excellent service and quality for emergency repairs. They operate from a purpose built factory specially designed to complete repairs up to 400kW.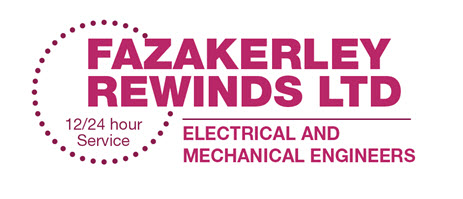 They provide a wide range of electro-mechanical services including armature winding, pump repair, gearbox repair, dynamic balancing, laser alignment, in-house machining, site condition monitoring [including vibration analyses] and fans and blower units repair & supply. Fazakerley Rewinds Ltd is ISO 9001:2008 certified and fully committed to continuously improving their quality management system.
System: EMIR Standard
User Licences: 2
Modules: Basic, Quoting and Sage Line 50 Interface
Project Background
In August 2013 Greg Russell, the owner, contacted Solutions in I.T. about their EMIR software, which is the market-leading business management system for electro-mechanical sales, repair and service industry. As an AEMT member, he had previously heard about EMIR and decided to look closer at the solution. His company needed a job management system to be able to produce job cards, manage job costing, progress work through the workshop, produce delivery notes and invoices and link financially to their existing Sage system.
Solution
Following a recommendation to look at EMIR and then having had a look at the Solutions in I.T. website, Greg's first thought was that perhaps an EMIR Easy solution would be right for his business, as he needed only 2 user licences. However, after discussing with Gary Downes [Director of Solutions in I.T.] , he decided that he would be best opting for an EMIR Standard solution featuring the Basic module and the Sage Line 50 Interface as this would be much more beneficial for his growing business. Not only has the EMIR Standard Basic module more advanced functionality in comparison to EMIR Easy, but also the EMIR Standard solution allows addition of other EMIR modules & extensions, unlimited users and further enhancements in the future. This soon turned out to be a very good decision!
EMIR was installed in early September 2013 and Fazakerley went live the very same day(!). Within a month Greg had also decided to upgrade his EMIR system by adding the Quoting module, which was delivered at the beginning of October.
Customer Feedback
"Following the implementation of EMIR the day to day processing of repairs has improved dramatically. It's simple, easy to use and, along with the support provided, it's proved to be exceptional value for money. I have no hesitation recommending EMIR software and support package". Greg Russell, Fazakerley Rewinds

Visit http://www.fazakerleyrewindsltd.com/
Published: February 2014
Related Links and Downloads