100 Years of Shoebridge
Steve Ashman of Solutions in I.T. spent the afternoon with Robert Shoebridge at their Northampton head office to find out about the business and the key to their long standing success. W.H. Shoebridge has been an EMiR customer since 2004 purchasing EMiR Standard with 14 user licences and the Basic, Quoting, Purchasing and Stock Modules.
Background of the Business
W. H. Shoebridge is almost a hundred years old, where did it all begin?
It was established in 1919 by William Harry Shoebridge, he'd been through the first world war in the electrical division of the army and been trained as an engineer and a winder up in Lancashire. He moved to Northampton to be with his father who was governor in the local prison. When he was demobbed he decided to start a company repairing batteries, vacuum cleaners, dynastarts and dynamos, hoovers, in fact anything with an electric motor in it. He progressed the business through the 20's, 30's and up through the second world war when my father joined him. Grandfather [William Harry] retired in 1955. My father then took over and ran the business right up to 2011.
The business has always been in Northampton then?
This is the third site since the 1920's. We have been here about twenty five years and in 1964 father opened a branch in Wisbech, Cambridgeshire and then one in Peterborough in '85. In 2002 we bought the engineering plant at Spalding, that's our heavy side. They specialise in pumps, heat exchangers, steam valves, confined space, site work and all kinds of electro-mechanical.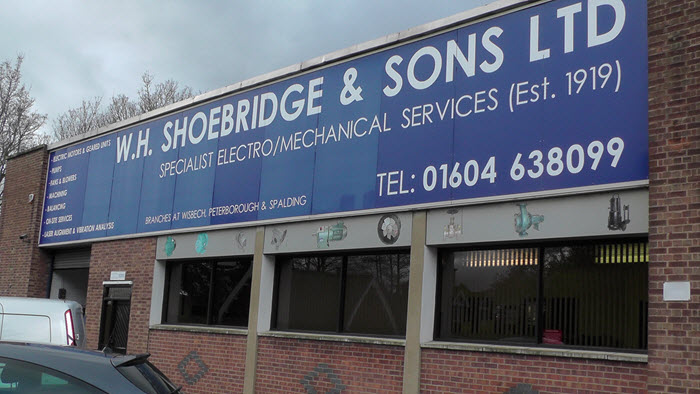 Diversity and Vision
What kind of capacity do you have in Spalding?
We've recently installed a 72" Webster and Bennett vertical borer, a 5.5 metre lathe with a 39" capacity in the gap, we've got a 14" slotter, so it's all big stuff we are capable of doing. About 18 months ago we had a new bay built with an 8 tonne overhead crane.
How many people do you have over Spalding?
14 guys over there, so a total of 42 of us in the business.
When did you come into the business?
I would say 1972.
…and what was your route to management?
I was just a boy then, I had two years in college which I thoroughly enjoyed, a machine and electrical mechanical course. And then he sent me down to Wisbech. I had a year with them and then I had a year back here and then another year back in Wisbech. So that's were I did my time. All hands on, buying and selling and of course, repping around. Right from the start I was interested in the sales, buying and selling. I always like the relationships and being with the staff as well.
So, nowadays are you doing the repping for Northampton?
We have a guy here now, but I will also do it and I will also do it at Wisbech and Peterborough or Spalding. I still enjoy going out and about and if there's a prospective customer, someone I can see I will drop literature off or pop in to see them.
It's a large area from here to Spalding?
It is a big area and I always go down there every week, spend some time with the guys and the work continues to come in from all over the country.
This side of the business is about local relationships, do you get much work nationally or internationally?
We do business with Ireland, some in Europe over the years and Africa. Pakistan used to be a good trade for us, although that market has changed now, they have their own infrastructure and they can buy motors as cheaply as we can now. A few nice orders here and there with the Commonwealth countries, but all of the old machinery have now been superseded.
Its interesting how work travels, when people hear what we do they send us work. We've got good staff, a good job is done and at a fair price and people send us whatever.
What would you say is your unique thing over at Spalding, would you say?
Capacity and the size of the site. We have one and half acres over there and the experience of the staff.
What kind of business is it attracting, agricultural?
Heavy industry and that's on the back of the utility work, then of course there's food, agriculture, and any thing to do with water.
You mentioned steam?
Steam live lines, valves, testing, heat exchangers, but no boiler work.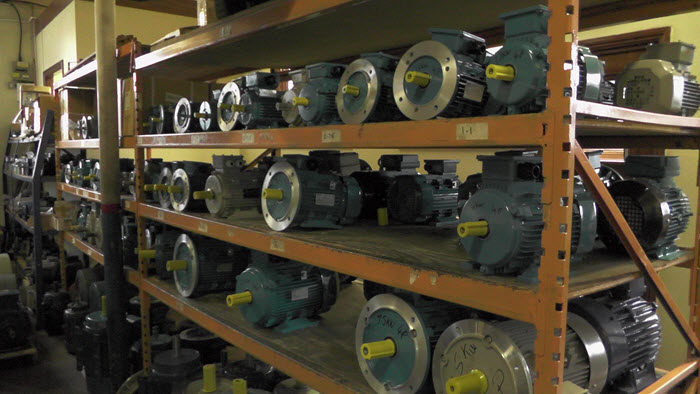 The People behind Shoebridge
In terms of running your branches you have key people in place, is that the key to making it all tick?
Yes, we get them all involved. I see them every week and talk to them, on a daily basis sometimes. I don't put a tremendous amount of pressure on them, they've all been here for a long time and they know what they are doing. I have an open door policy, if they want any kit, to put their case forward and I like to spend the money.
I spoke to a chap on the way in and asked him how long he'd been here. He said six years and the fella over there thirty five. So you manage to keep your people?
It's the variety of the job as well, no job is the same and there is great satisfaction of doing a good job. It's a twenty four operation.
What about training?
We have youngsters coming through on apprenticeships and that is a big help to us, they're working alongside the guys in the workshop. They are very good at taking young lads under their wing. We do try and hand-pick the good guys, over time we've had so-called journeyman that come in and some have proved invaluable and if they are bad they aren't here long.
What challenges does the business face in these modern times?
Sometimes it does worry me, even more so years ago when there weren't so many smoking chimneys. Manufacturing was going abroad, but I've come to accept the fact that the whole manufacturing sector has levelled out. We do have manufacturing here and we are more involved with maintaining the infrastructure of what's left. From utilities, to hotels, hospitals, office blocks, even warehouse and distribution, which we probably wouldn't have got involved in years ago.
Is the emphasis on service and repair or replacement?
We are replacing motors when we can because it's uneconomical to rewind some of the motor stocks. It's what I call the Chinese influence. You can't do anything about that, whereas years ago they weren't here. So you could get good money for a rewind or refurb on an industry motor, but that's changed. It's the same in your world, where you may have spent £3,000 a few years ago on a computer, now you go down to PC world and spend £700.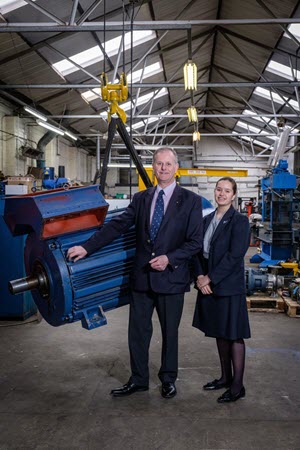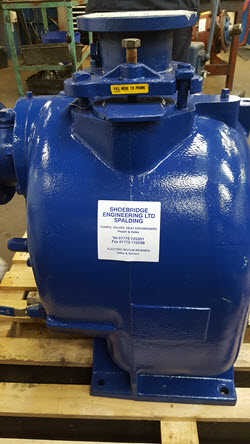 Long Term Relationships
You've aligned your brand with Brook Crompton, haven't you?
We've been with Brook Crompton since the fifties, in fact, when they were Crompton. We've always supported them because they are British you see and then later as a business we had to get involved and buy Chinese motors. Brook Crompton and Exico are big suppliers to us now, although we sell anybody's make or model to suit the application.
It's the application of the product that drives the decision?
We give the customer two choices, if he wants the cheap one, he gets the cheap one. It's the service he wants.
Why have you stuck with Brook Crompton for so long? I know you said they are a British brand, but are they quality, how do you differentiate between them and the others?
I think they are quality. It was historic for my father in particular, and we had umpteen visits to the works to see them being made, it's a good brand and the name still sells. Brooks have changed, some of the motors are now Chinese owned and this is where the motors come from.
The W series which was made in Huddersfield and Guiseley is now made in Poland and we have those over here.
Are you trying to attract a certain type of industry or new market?
Pushing towards mechanical repairs, we've set our stall out to do that and site work and the availability of the stock, we hold a lot. We will diversify into anything the customer wants, the motor is often the smallest part of the system. Food mixers, grinders, gearboxes and the pumping systems.
Quality and Training
Quality systems, I noticed you are ISO 9000, what was the decision to go down that route?
The customers decided, you get the accreditation and we'll give you the work, we'll set you up on the system. The guys here got their heads around it. It's all about calibration, keeping records and documentation up to date. If you want business, get the customer in to visit you. Show him what you've got, this is what we can do and they are happy to do business with you. We find so many companies do a presentation at the customers. I don't have a problem with that we all would, but it's what you do here that matters.
The best standard you can have is bringing the machine back to its original specification and if it's been running for all these years then, that can't be bad. If you can improve it, then great!
What do you think about the skills shortage in the industry?
There is a shortage definitely. The industry hasn't been very proactive, because as a service industry we were a bit jittery and weren't too sure as to what there would be left for us to do. The colleges weren't given any guidance around what to do, the construction industry has the same problem, but they are coming on board now.
Apprenticeships?
Absolutely, for years every company had apprentices and that system is finally starting to come back. I think it has to go back to companies being encouraged, be given tax breaks or the like and the technical colleges have got to come away from the idea that they are all universities. There is too much emphasis on university and of course, its come back to bite us.
Any famous names amongst your client list?
We've got lots of names you'll recognise, all of the local estates, hospitals, etc. There was one job for Fossett's Circus in Peterborough, a gearbox was damaged and we did the repair. I jumped in the car and took it back. The circus was all set up for the Roger Moore James Bond film, unfortunately that day they had all disappeared off to Pinewood to do the shooting.
How do you see the electro-mechanical industry changing?
It's certainly looking for efficiency savings, efficient drives, reducing costs. It doesn't necessarily mean it has to be modern. If you can improve something say, put an invertor on a drive, making it run cheaper that's good. If you can put a case forward for him to spend the money, they will spend it. 70% will go for the cheap option. In some cases, their plant is not going to last so cheaper is the best. You have to respect the customer decision.
Brexit is going ahead next Wednesday, what effect is it going to have on this industry?
Personally, I think it is a wonderful opportunity and we need to get out from this socialist control we've had for the last forty years. Germany and France and Italy to some extent have looked after their industry and they've made damn sure we've lost ours, because we've sucked in so much of theirs. I think now there is an opportunity to go out into the big world and go for it. They will still want us don't you worry. We will always spend more with them, than they spend with us. It's time to get back to the basics.
What about the import market, do you think it's going to be affected, bringing motors into the country?
It will, but why don't we start growing it here. It will help us and it will come back. Why would we want to ship it from Spain or Portugal when we can grow it here?
We touched on the Chinese economy, where do you see that going now?
That will continue, but I think they will get more expensive like Japan did in the sixties and seventies. The china man will want quality of life and his wages will go up. It will all level out. I probably won't see it, the next generation will and hopefully it will all begin to come back to us. We certainly can't complete with mass cheap labour.
Working with the AEMT
AEMT, when did you originally join?
It would have been in the mid to late eighties.
What was your reason for joining then?
I think it was father who got interested in it. We had contacts in the trade who were members and they were saying why aren't you members? John Peach, the AEMT President at the time from Nottingham and Dowding and Mills, he persuaded us. Soon after we joined I was on the council for 5 years as the Midland Area Chairman, I thoroughly enjoyed that. I got the chance to network all around the rewind shops that were buying motors off us. Before the days of the internet, this was the only way to work. Some of the contacts I got in those days I am still in contact with now and if they come across something quirky they will still phone us.
At the AEMT, you were talking to people who were strong powerful people in the trade, Peter Hollins from Dowding and Mills, Jim Cobb, David Bowers, very active people. Wally Adams who recently passed away, Pete Ryder, all good people to know.
The dinner and dance at the Savoy I used to enjoy that. People came from all over the country. The dinner would be on the Friday night and everyone would stop for the Saturday in London and make a weekend of it. You'd have big companies like Deritend, Anstee and Ware, Mike Trigg was very active. Some of the smaller firms also came. I wish more of the younger audience would attend the events and the suppliers, we need to network.
What about achievements on council, what were you proud of?
In those days, we were going through a bit of a recession trying to hold it together. Hold the peace with the competition and learning a lot off the big firms. GEC, Brook Crompton. We need to do that again.
How can the AEMT help you achieve your aims as you go forward?
With different accreditations, I suppose, customer driven needs that come out the wood work and helping with new legislation. We are members of EASA which is an American organisation and it has its place, but the AEMT represents British business and we need more of it.
The Life Outside
Work aside, how hectic is your private life?
I have the fourth generation of the Shoebridges to look after. Father was a great collector of cars, an 83 yr old mother, outside of that, gardening and socialising with my daughter. Being here is demanding. I still do a 24 hour callout for a week when it's my turn. The customer expects you to be here 24 hours a day. One more thing that has changed over the last 10 years.
You can discover more about W.H. Shoebridge & Sons Limited and Shoebridge Engineering Limited from their web site at
www.shoebridges.com