20 Year Anniversary Special Offers
23/10/14 EMiR 20 Year Anniversary - Benefit from Special Offers!
EMiR – 20 Years of the Industry's No. 1 Business Software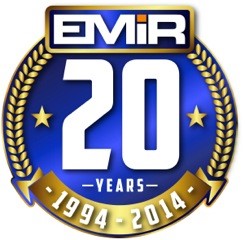 Special Offers on EMiR for your Business
September 2014 saw the 20th anniversary of EMiR, short for Electro-Mechanical Information Resource is a fully featured and integrated business software application designed to automate and streamline every aspect of an Electro-Mechanical business, no matter how diverse. Whether the business focusses on workshop repair, field service, sales and distribution, manufacturing assembly or hire, the EMiR platform is designed to meet those needs…and with 20 years of experience in this marketplace, you can rest assured that we've helped other companies, just like you.
So why not take a look?
You can see the software first-hand, without charge and explore why so many Electro-Mechanical businesses like yours choose EMiR…and what's more, there has never been a better time to consider EMiR. All appointments and demonstrations conducted before the 31st of December qualify for EMiR anniversary special offers. (Please see the 'Celebration' flyer below)
Call 0845 009 4588 or email info@solutionsinit.com, we'll ask a few questions about your business and book a date in the diary. There's no obligation to buy and every reason to learn more.