AEMT 2014 Conference
28/08/14 Join EMiR, 2015 and Beyond… AEMT Conference 2014
The first AEMT conference will be held at Dunchurch Park Hotel on Wednesday, September 10th with an impressive line up of leading cutting edge speakers.

Dunchurch Park Hotel
Rugby Road,
Dunchurch,
Warwickshire.
CV22 6QW

Steve Ashman, the Business Development Manager of Solutions In I.T. comments, "We are celebrating 20 Years of EMiR Software in September, so we've taken a stand along with other AEMT suppliers and motor manufacturers and distributors. The AEMT and its members have played a large part in our success, so we are happy to support this inaugural event."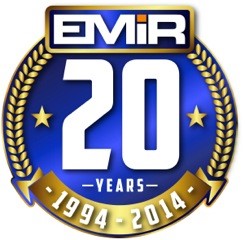 As part of the 20 Year Celebration, the EMiR team will have special offers for those companies attending the event. The conference is open to AEMT members, their customers, and other delegates with an interest in "2015 and beyond", so make a date in your diary.

You can find out about the speakers and Download the Booking Form by Clicking Here