AEMT AGM 2017
28/06/17 Highlights of the AEMT AGM 2017
The Advanced Manufacturing Research Centre was an excellent location for this year's AEMT Annual General Meeting. Building on Sheffield's centuries-long history of metalworking expertise and innovation the AMRC, the brain child of Professor Keith Ridgeway and local businessman Adrian Allen has been created to develop new manufacturing techniques and technologies.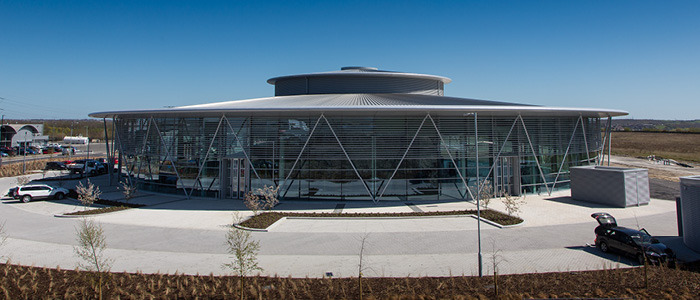 Part of the University of Sheffield a world leader in metallurgy and engineering research, the AMRC has over 100-plus industrial members ranging from global giants like Boeing, Rolls-Royce, BAE Systems and Airbus, but the service doesn't stop there. You don't have to be a member or global brand to benefit from the skills of the AMRC Group, expertise and resources are open to all sizes of manufacturer. The tour of the site was a mind-blowing mix of robotic, automated manufacturing process and virtual reality technology being used to full effect, reducing delays, time and money in existing and somewhat complex manufacturing situations.
AEMT business:
Graham Brooker of Wilson Electric, the out-going president thanked all of the council for the time and commitment they have shown to the advancement of the organisation and the work and initiatives undertaken for the benefit of the members. As past-president he will continue to support the council in its endeavours. Handing over the chain of office to Gary Downes of Solutions in I.T. and inaugurating the first Associate Member of the AEMT to become President, he welcomed Gary to the job saying, "I have worked with Gary over the last few years and know him to be a person that get things done and wish him all of the best in his new position."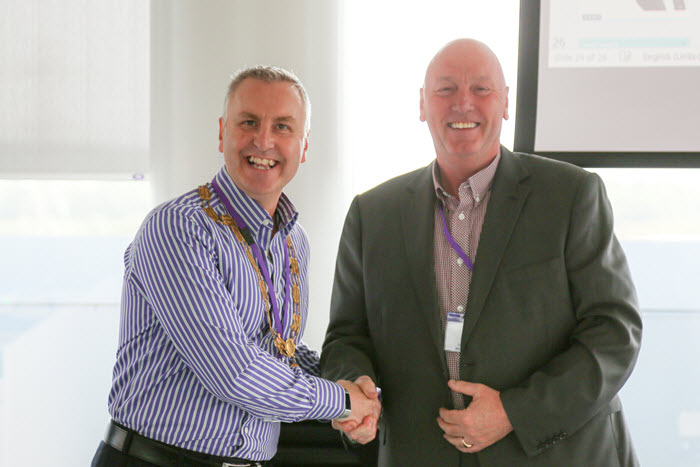 The council now consists of:
Gary Downes, Solutions in I.T. Ltd, President of the AEMT
Graham Brooker, Wilson Electric, Past-President
Matt Brown, Quartzelec, Treasurer
Matt Fletcher, Fletcher Moorland
Len Jones, Parsons Peebles
Simon Swallow, Rotary Engineering UK Limited
Derry Sheehan, Avonmore
Dennis Rawle, Graphalloy
Shaun Sutton, Central Group
Simon Brooks, Rotamec
Lucie Hodkova, Lammers Exico
The Secretariat is now in the capable hands of Thomas Marks, taking over the role from his father Tim who will look at retirement from AEMT business over the next few years. Thomas gave a report on current member numbers, increasing web and social media activity and the progress of this years inaugural Awards evening in November. Members are encouraged to get their entries and nominations in quickly as the closing date is the 18th of August.
The AEMT Awards is a black tie awards ceremony that celebrates success and excellence in the electro-mechanical industry. All companies and individuals are encouraged to review the categories on offer and make their nominations. The AEMT welcomed TouchWave Media as the producers of the event, DMA Europa as PR partners, DFA as Media partners and thanked the sponsors for their support.
Sponsorship of the event is still available to suit your business needs, please email steve@solutionsinit.com if interested. Current sponsor videos can be found at:
http://www.aemtawards.com/partners
"This is an awards process that every member, associate member and individual can get involved with and reap rewards. With an independent judging system, exposure for your brand through PR and Free entry I want to make sure that everyone makes use of this opportunity."
Gary Downes, President
The AEMT invested two new Honorary Members, Philip Bourne and Dave Hesketh, the full story of their involvement in the AEMT is here:
http://www.theaemt.com/DB/news-webpage/two-distinguished-honorary-members-of-the-aemt-mad
In the afternoon we were enthralled by Amanda Chadwick of the Croner Group, expert consultants in Employment Law, HR, and Health & Safety, who quickly established what we understood of the law and dispelled our inaccuracies. Without policies in place, as businesses and individuals we are all at risk! As an AEMT member Croner offer free advice. Contact Denise Leigh on 0844 728 0181 or email denise.leigh@croner.co.uk