AEMT appoints New Vice President
12/07/16 EMiR Director promoted to Vice President of the AEMT
Having previously held roles of Chair of Associates and Honorary Treasurer, Gary Downes has had a long and developing relationship with the electro-mechanical industry's trade association, the AEMT. Now in its 75th year, the AEMT (the Association of Electrical and Mechanical Trades) continues to develop and promote high standards of service and competency across its 500 members in the UK and overseas.
"It gives me great pleasure to welcome Gary into the position of Vice President. He brings a wealth of experience and drive to the AEMT that the members will continue to benefit from."
Graham Brooker, AEMT President and Managing Director of Wilson Electric (Battersea)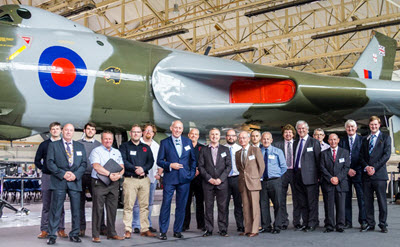 (A recent visit to the Vulcan Experience for the AEMT AGM)

The AEMT has always relied on the participation of its members to create a service that reflects the needs of the industry and the council reflects the sum of those efforts.
"It has been a real privilege to have been part of the AEMT council in recent years and to contribute to its considerable growth in that period, but becoming the first associate member to hold the office of Vice-President is a real honour and shows how well the membership collective is working together to drive the AEMT forward. The AEMT has certainly helped my business and I'm sure it will be an asset in yours" adds Gary Downes, Director of Solutions in I.T., the home of EMiR software.
The AEMT is also pleased to announce several new appointments to the council who will add further expertise and drive to the AEMT. They are:
Derry Sheehan from Avonmore Electrical (Northern Ireland)
Dennis Rawle from Graphalloy Exalto (Derby)
Gareth Williams from HG Rewinds (Stoke-on-Trent)
Lucie Hodkova from Exico (Wellingborough)
Shaun Sutton from Central Group (Liverpool & Glasgow)
Simon Brooks from Rotamec (Cheddar, Southampton & Redditch)
More information can be found on the AEMT's web site www.aemt.co.uk

Related Links and Downloads