AEMT - Going for Gold!
04/11/16 Taking advice from five-time Olympic medallist Max Whitlock
It isn't everyday you get the chance to meet exceptional people in the world of sport, well the AEMT council meeting was one of those. During lunch Max Whitlock took time out for a quick pep talk and photo opportunity at the Link Hotel in Loughborough.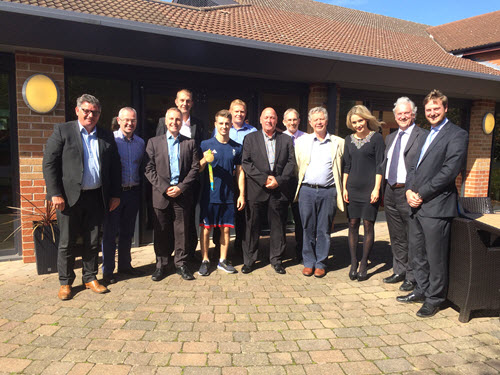 (The AEMT Council and Max Whitlock sporting the Gold Medal)

Max Whitlock became Britain's first ever Gold medallist in artistic gymnastics when he won both the men's floor and pommel horse exercises at the Rio Olympics this year. That's two Golds and a Bronze (all-around) and two Bronzes at London 2012 in Pommel and Team and at the age of 23 and there's lots more to come.
"A truly unexpected and inspirational moment for us all. On behalf of all of the members of the AEMT, we wish Max all of the best with his career and even greater success."
President, Graham Brooker
You can see Max in action on the BBC Sport web site from the link below.

Related Links and Downloads