AEMT Golf Day 2019
20.06.19 Sponsored by EMiR Software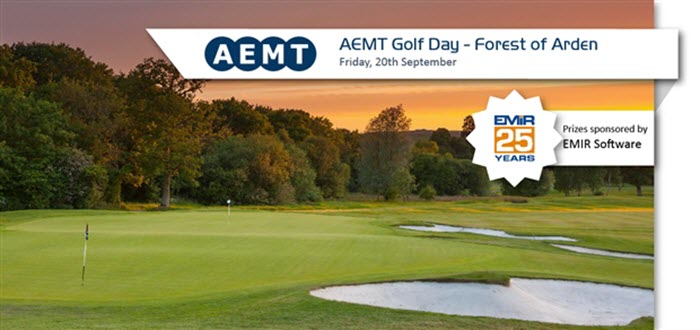 This years AEMT Golf day takes place on Friday the 20th of September at the Forest of Arden Golf Course in the West Midlands.
The day is open to members, non-members and guests of the AEMT.
This year, EMiR Software are sponsoring the entire event with prizes for teams and individuals (3rd, 2nd & 1st Place), nearest the pin, the longest drive and the Captains Special Award for unorthodox and outstanding play.
Gary Downes comments. "This is always a good day and the weather has always been kind to us. This year I've decided to sponsor the entire event as it coincides with 25 years in business as EMiR Software and my last year as President of the AEMT. Come along and bring a team we'd love to have you there."
The day includes breakfast, 18 holes of golf, presentations and evening meal at one of the midlands best golf courses the Forest of Arden, near Solihull.
The price is a heavily discounted £89 per prerson or £356 per team of 4.
For more information or to book a team contact the AEMT secretariat on 01904 674899 or email sam@aemt.co.uk or call EMiR Software on 0845 009 4588 / info@solutionsinit.com

Related Links and Downloads