Bedford Pumps - PIA Winner
06/04/16 Bedford Pumps - 2016 PIA Award Winners
The EMiR Team would like to congratulate their customer Bedford Pumps on their achievement at the 2016 Pump Industry Awards, winning in the category of Environmental Contribution of the Year (sponsored by SPP Pumps). Well done for all of your hard work!


Bedford Pumps save stakeholders £3m on fish friendly scheme
Bedford Pumps' Fish Friendly pumps successfully pass eels and fish in compliance with the EU Eel Regulations. Bedford Pumps worked closely with Peter Brett Associates to evolve the civil engineering and pipeline design at Webb's Hole Pumping Station to carefully mitigate damage to eels and fish whilst at the same time delivering stakeholders £3M in capital savings against their national framework estimate. The station, which also includes the creation of some bird habitat, is the first of its kind to fully embrace the regulations from concept through to commissioning.

Bedford Pumps
Bedford Pumps Ltd is one of the UKs leading manufacturers of large, bespoke water and waste-water pumps, and is located in Bedford, England. They are part of the Hidrostal Group of companies.



PIA – Pump Industry Awards
Since 2000, the Pump Industry Awards has been recognising the best performing companies and people for their achievements and positive contributions. This year, PIA proudly led the call again in championing those responsible for pioneering new frontiers, inspiring others and achieving growth in challenging markets.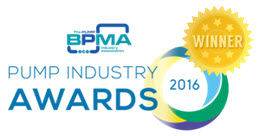 "We are delighted that the Pump Industry Awards are so valued by our industry."
Steve Schofield, BPMA Director & CEO
You can read more about the Hidrostal Group and how they went 'Paperless!' with EMiR - Click the link below...
Related Links and Downloads