BPMA Membership
20/02/14. Solutions in I.T. are delighted to announce that the company has joined the BPMA!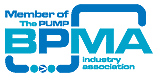 As part of our total commitment to the electro-mechanical sales, service and repair industry, Solutions in I.T. have now joined the BPMA to add to the company's trade association memberships with EASA and the AEMT.
The British Pump Manufacturers' Association (BPMA) is a trade association representing the interests of UK suppliers of liquid pumps and pumping equipment.
BPMA's prime mission is to influence the business environment in the interests of the competitiveness and profitability of the UK Pump Industry through a range of services including commercial, marketing, technical, environmental, educational and energy together with regular meetings of members.
BPMA members are the leading companies in the field of pumping technology in the UK with a commitment to product quality and development, value for money, safety and after sales service.
BPMA members account for approximately 85% of the £1 billion plus UK market for pumps and in addition are net exporters.
Solutions in I.T. are delighted to be part of this great organisation and look forward to meeting its members.
Related Links and Downloads