Breaking News Stateside
13/11/17 A mention for the AEMT President in Chicago, Illinois
The AEMT continues to promote member business across the UK and around the world. In 2017, the AEMT engaged the PR services of DMA Europa and Touchwave Media to further promote the association through social media and magazines.
Promotion of the AEMT reflects well on the membership. Award Finalists are already being promoted in Drives and Controls Magazine, Plant and Works Machinery Magazine and across the web in various channels.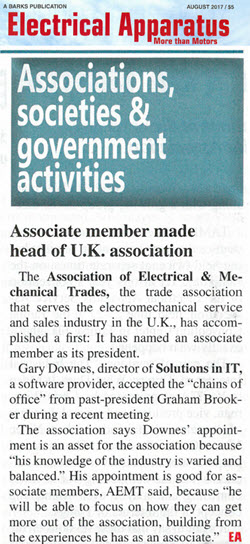 If you have a story that deserves to be told, new premises, a new member of staff, machinery or a project of interest, then let the AEMT secretariat know.
Related Links and Downloads