COVID-19: Almost Business As Usual
17.04.20 What are we still doing during the coronavirus outbreak?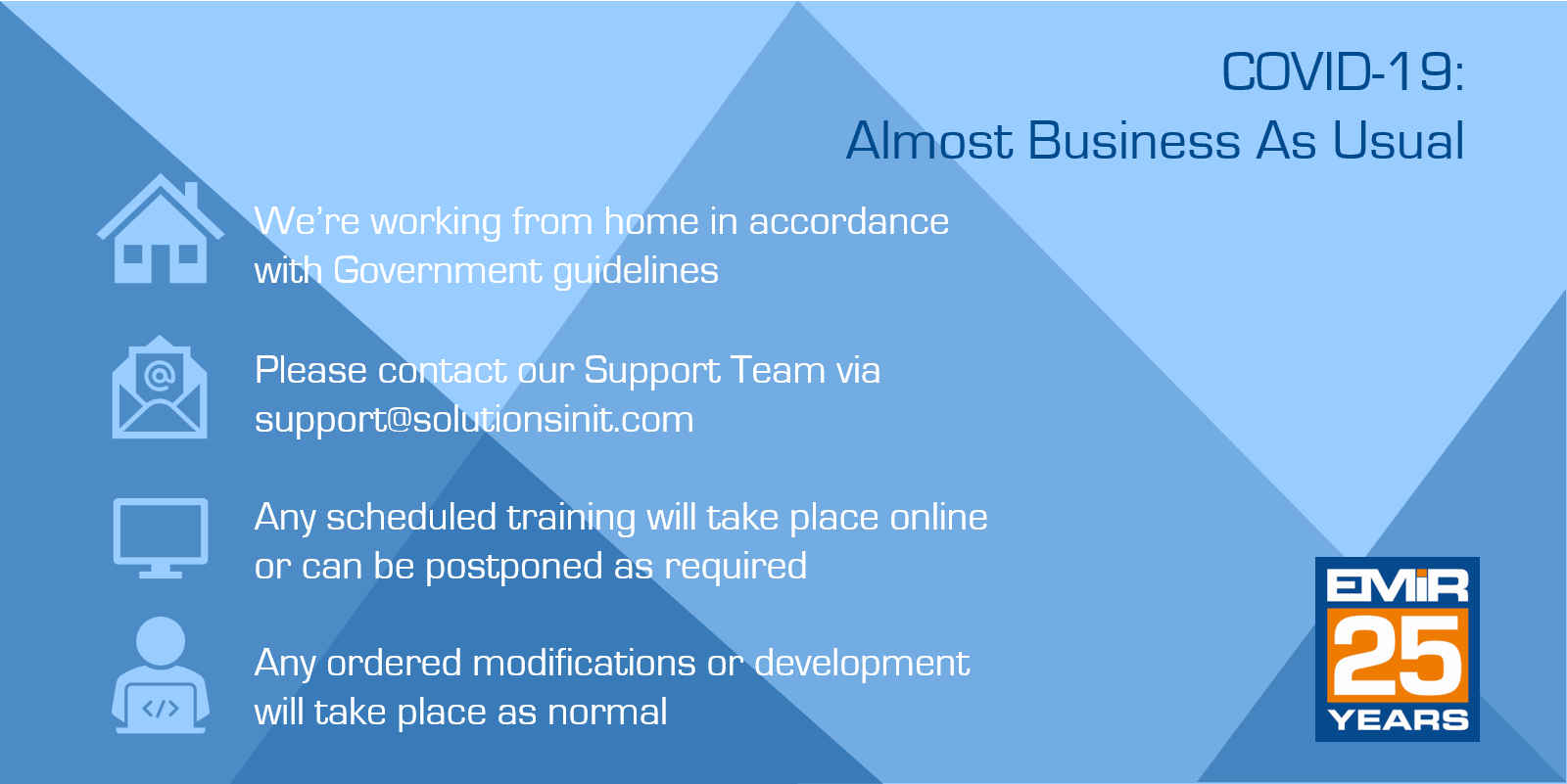 During these unprecedented times we hope that you and everyone at your business are well and are taking the necessary precautions to ensure that we will all get through this together.
We understand that many of our customers are classed as essential workers, maintaining and repairing equipment for hospitals, utilities, and key manufacturers. We want to thank you for your efforts and hope that you stay safe.
What Are We Doing?
Since you're still working, we're still here for you.
It's almost business as usual here at EMiR Software, however, everyone is now working from home in accordance with Government guidelines. This includes our Support Team. Should you need to contact support, please use the support@solutionsinit.com email as your first port of call. This will ensure that your issue is seen by the whole team and can be prioritised appropriately to help resolve it faster. If you need to talk to us, please use the normal 0845 009 4588 line.
Additionally, all of our company meetings are now conducted online. If your company had any training booked in before the outbreak, this will now take place via GoToMeeting if urgent, or can be postponed as required.
Modifications and Development
Our Development Team is also working from home. Any modifications or development that were booked in prior to the outbreak or have been ordered since will be completed as usual.
More Information
For more information on COVID-19 please see the government advice at: https://www.gov.uk/coronavirus
For business advice head to: https://www.gov.uk/government/publications/guidance-to-employers-and-businesses-about-covid-19
If you can, please download the COVID-19 Symptom Tracker (even if you are well!) to self-report how you're feeling and help researchers better understand the spread of the virus and identify those at risk sooner. You can download the app for iOS or Android here: https://covid.joinzoe.com/