CRM Version 7
15/02/18 The latest release of CRM V7
February 2018 sees the latest release of the best-selling EMiR Extension CRM, the sales and marketing tool designed specifically for the electro-mechanical industry. Released in 2014, CRM or Customer Relationship Manager has been written from the ground up as an integrated part of EMiR and is accessible to users via any web browser.

CRM creates a central location of all communications including notes on telephone calls, emails and meetings with customers, prospects, suppliers that everyone can access and append. It creates an environment where targeted approaches can be made to prospects with the effort measured and successes moved directly into the customer area of EMiR. A sales person can see all outstanding quotes and close them highlighting a win or loss status, all remotely from the office and all of the reports you would need as a manager, sales person or telemarketing person are displayed as key statistics.
So, what's new in CRM Version 7
Opportunity analysis reporting using won and lost markers
Fuzzy searching on contacts and customer codes
Quick reschedule follow up option
Follow up shows quote & opportunity values and expected dates
Expected sales and expected orders report
View key statistics by calendar and financial year
Additional functionality in creating sales budgets by salesman
Enhanced reminder system
Existing CRM customers will have Version 7 installed over the next fortnight and demonstrations of the new release for prospects can be booked from today.
More great news!
Version 7 of CRM is accompanied by the release of the CRM-Marketing Dashboard. Dashboards are the latest products to be included in the EMiR portfolio. (released at the EMiR Open Day 2017 – see the video
https://www.youtube.com/watch?v=ls-FNc2Frmc&t=4s
) Created in the Microsoft Power BI reporting and Dashboard suite, the CRM-Marketing dashboard offers a wealth of information to the marketing phase of your sales operation.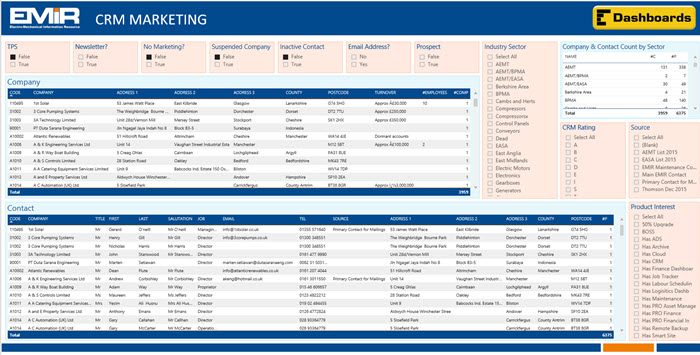 How does the CRM-Marketing Dashboard improve marketing?
Shows data counts for each sector and applied filter
Out-dated or incorrectly labelled records are visible
Identifies marketing opportunity and potential data shortfall
Uses data filters to build precise targeted recipients
Refined campaign data instantly accessible

Use the link below to see for yourself….
Related Links and Downloads