Developing EMiR
11/07/14 Developing the EMiR Product family - An Overview of the EMiR Open Day
On Tuesday, Solutions In I.T. were pleased to welcome customers from all over the UK to the annual EMiR Open Day, an event this year held at the Harborough Innovation Centre in Leicestershire.

"There is so much that changes in a business year, it's important to keep our customers up-to-date with innovations that could immediately benefit them." Gary Downes, the Managing Director of Solutions In I.T. explains. "We write software that gives our customers, a clearly defined differentiation over their competitors. A product that helps them standardise and streamline the flow of jobs and orders through the office and service centre, ensures early identification where profitability can be improved and reduces the amount of time a person spends collating information for important tasks, such as quoting."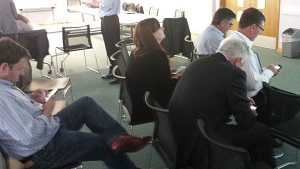 (Trying EMiR-PDA in real time)

The purpose of the day is, like Gary suggests, is a time to demonstrate the many changes that the EMiR product goes through as a result of a demanding client base of electro-mechanical engineering companies. EMiR is driven by customers that have a desire to be the best in the industry.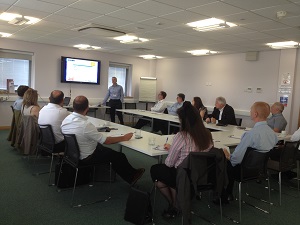 (Customers in product development briefing)

In the afternoon, Development Director John Anderson invited the audience to think further ahead. John adds. "This was one of the rare occasions we get as software developers to invite the customer to download all of their ideas about current business practises and future needs in an open forum. This Blue Sky thinking of our User Group has defined the next generation of EMiR Modules and processing features."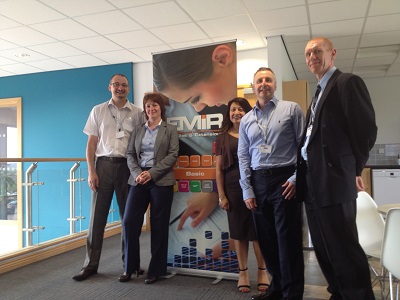 (The EMiR Team attending on the day, from the left, Steve Ashman, Krystyna Malinowska, Latika Downes, Gary Downes, John Anderson)

The EMiR Team would like to express their appreciation to the following companies for their great input and continued trust.

Fluid UK Limited
HG Rewinds
Bellwood Rewinds
Hidrostal
CPM Engineering
Knowlton & Newman
Mid Kent Electrical
Durapump
Related Links and Downloads