EASA Conference 2016 - Marseille
13/10/16 Highlights of the EASA Conference 2016
EMiR attend the EASA European and World Chapter Convention in Marseille.

The Huffington Post described the destination, Marseille as France's oldest city discovered 2600 years ago, 300 days of sunshine a year, sandy beaches, coastal roads, a thriving old port guarded by two fortresses and French-Mediterranean cuisine. Marseille is perfect for all types of travellers, from the sun catcher to the history buff, the foodie to the modern art enthusiast.
…and it didn't disappoint, an ideal location for EASA Region 9 partners to "Prepare the Service Future". Through a variety of mediums including business sessions, face to face meetings, presentations and networking EASA developed a packed programme for members across Europe with the ultimate aim to discuss the changing world of repair and service and create strategies for future success.
(Wim Vancauwenberghe, Director of Bemas, the Belgian Maintenance Association. Wim was introducing his association to EASA members and discussing the general challenges in maintenance management in Europe and EASA/BEMAS partnership targets and expected Benefits.)
The Electrical Apparatus Service Association, Inc. (EASA) is an international trade organisation of nearly 1,800 electromechanical sales and service firms in 63 countries. Through its many engineering and educational programs, EASA provides members with a means of keeping up to date on materials, equipment, and state-of-the-art technology. EASA International encompasses 10 Regions. European & World Chapter Limited is Region 9.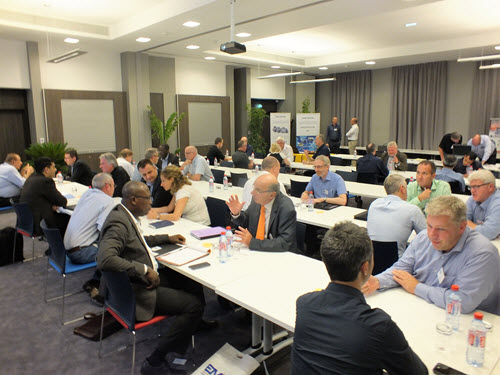 (Getting the business done. Organised 15 minute face to face discussions, booked prior to the conference.)
The Karsten Moholt Exceptional Achievement Award is made annually in the memory of Karsten Moholt and Karsten Aleksander Moholt who are past Presidents and Regional Director of EASA European & World Chapter. Their exceptional guidance and leadership of the region 9 chapter is remembered by awarding young people, under the age of 30, within the industry who have demonstrated improvements within their company up and above expectations.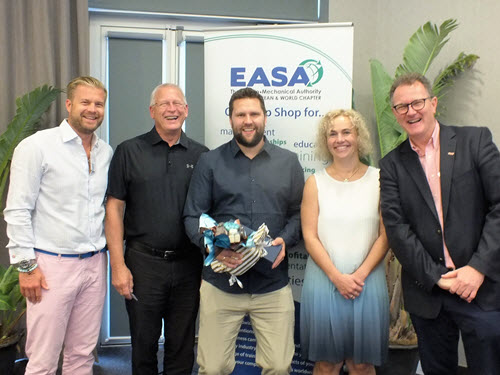 (This years deserved winner, Bjorn Mjatveit, From left to right. Menzil Mathis – President, Jim Smith, Chairman of the Board of EASA International, Bjorn Mjatveit, Linn Moholt CEO of Karsten Moholt AS and Frederic Beghain – General Manager.)
Proof that networking your business and having face to face meetings is a winning formula. This is Yao Kouassis of RMS SARL, who met EMiR software at last year's convention in Barcelona. They now use EMiR in Abidjan on the Ivory Coast, widening our portfolio across the world.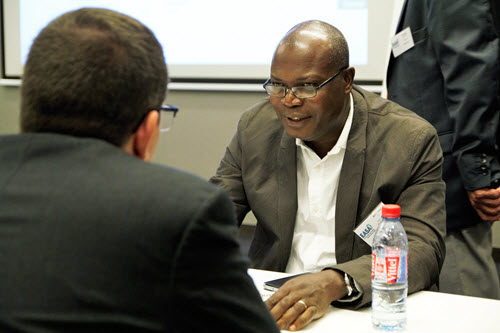 You can find out more about joining EASA Europe and World Chapter, Region 9 by visiting their web site at
http://www.easa9.org/
Related Links and Downloads