Finalists Announced
18/02/19 EMiR nominated finalists for prestigious awards
2019 is a special milestone for software author Solutions in I.T. Ltd as their flagship ERP application, EMiR turns 25 this year. Development began way back in 1994 when they realised that the electro-mechanical industry was in need of a product that fulfilled the needs of companies that repaired and serviced all manner of rotating equipment.
Now, some 25 years on, EMiR has become the industry standard software application for companies that sell & distribute, repair & service, assemble & manufacture and hire all manner of equipment including electric motors, pumps, gearboxes, generators, hydraulic systems, compressors and their control systems.
Now with 18 fully-featured Modules & Extensions for all areas of business processing, EMiR continues to attract the prestigious elite of the electro-mechanical world who recognise, like so many of their peers, that EMiR has addressed so many of the issues that the industry faces. It is through long-standing relationships with key trade associations such as the AEMT, BPMA and EASA, who are dedicated to these industries and help develop standards and promote best practice, that EMiR has become a firm favourite of association members.
So, to be finalised in two of the UK's prestigious awards is recognition of EMiR's success and the hard work and talent working to bring the product to market.
Gary Downes, the Managing Director of EMiR. "I am so pleased for the EMiR team who continually listen to our clients and improve the solution for the greater good of the users. This is great recognition for all the effort that goes into EMiR and we thank the awards bodies for making us finalists."
Finalist in the IT Europa Software Awards – Vertical Market Solution of the Year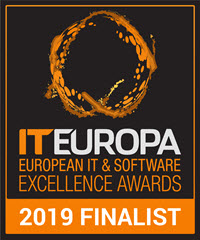 Finalist in the Pump Industry Awards – Product of the Year – Smart Site