Home Leone - John O'Groats to Land's End
24/06/14 Fancy a run? [of 784 miles!]
Solutions in I.T. are delighted to back the efforts of our accountant, Dave Hall, in his trek from John O'Groats to Land's End in just 40 days!

Dave Hall, of accountancy firm "Needham Hall & Co", is an experienced runner with over 100 marathons to his name (his PB is around 3hr 10mins), but his latest challenge beggar's belief – John O'Groats to Land's End in 40 days! That's the equivalent of a marathon a day for 40 days!

Having recently visited Sierra Leone, Dave was touched by the hard work under way to rebuild the country. Dave says "The aim of the run is to raise funds to launch a new charity "Home Leone" that plans to build 1,000 low cost homes in Sierra Leone." Hundreds of thousands of people live in the Freetown slums, a place where children die early and live amid the sewage and animals.

"We're only too happy to get involved with this great cause and may even run a few miles with Dave along the way! Such a fantastic effort deserves our support and sponsorship."
Gary Downes of Solutions in I.T.
Your help is appreciated
If you can help with logistics, fund raising or other ideas, then please get in touch with Dave Hall, by phoning 01582 720056 or e-mail the charity coordinator nigel.hyde@missiondirect.org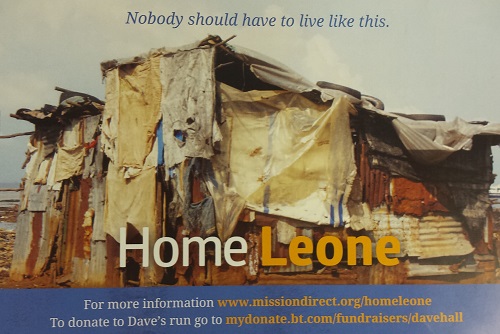 Related Links and Downloads