Is EMiR Right for You?
Want to know if EMiR could work for your business? Download our handy software criteria checklist, match it to your needs and compare to other products!
At EMiR Software, our promise to you is to only sell you EMiR if we know it'll work for your business.
Since we only provide ERP software for the electro-mechanical industry, EMiR is designed with your business in mind, from your processes to its terminology.
Want to see if EMiR could work for you?
Download the quick checklist by clicking on the image or the link below! Use it to identify your requirements and see how EMiR's functionality matches up. There's even space to compare against other products!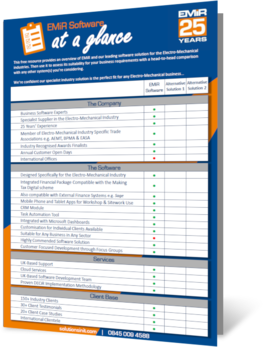 Related Links and Downloads