New Extension Client Visits
15/07/16 New "Workshop Routing" Product Release from EMiR to set the Standard in Workshop Control
Workshop Routing is the latest software feature release of the marketing-leading business software application, EMiR. An industry favourite for over 20 years, EMiR which is short for Electro-Mechanical Information Resource helps to reduce cost by streamlining the processing of repair, sale, hire, build and service jobs, and essentially creates a central focus for everything being ordered and sold in the business with a platform to assemble and manufacture all manner of rotating equipment.

Written in PowerApps, Microsoft's latest development platform the new Extension, Workshop Routing, relays live information directly from an iPad, Android or Windows device located in the Workshop to the EMiR solution.
(Below: Jake Farrell at the launch of Workshop Routing in June)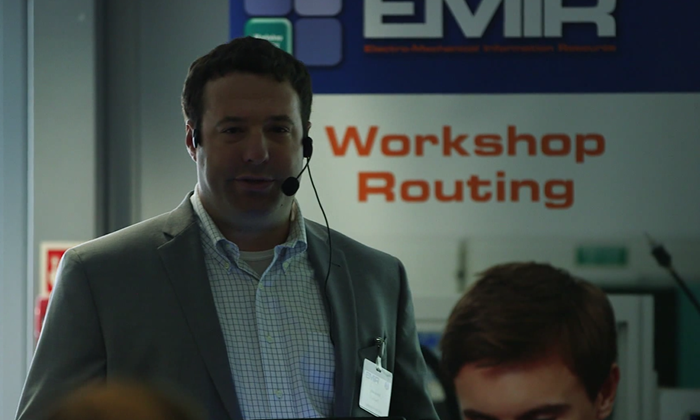 Consisting of a comprehensive series of product-specific electronic forms and integrated business logic, Workshop Routing eliminates the delays and inaccuracies of hand-written paperwork to follow items around the workshop. Each stage of the process is recorded and relayed live to the Visual Management dashboard ensuring that every stage of the process is accounted for in the process, live information that is constantly being updated as each task is completed.

"Our customers are demanding more from their software solution. If a business in this sector is looking for growth, improvements in efficiency and accuracy can be found in the processes that they currently employ. It is no longer desirable to print pages and pages of paperwork for each job or task and expect the internal team to make decisions from incomplete information. Workshop Routing takes away the clutter, makes the current situation very clear and gives managers the information they need." Gary Downes, Director of Solutions in I.T. Ltd, the authors of EMiR Software.
Last week, five UK based EMiR customers were given the chance to test-drive Workshop Routing for themselves. The Central Group in Liverpool & Glasgow, CPM Engineering in Manchester, Mid-Kent Electrical in Sittingbourne, Hidrostal in Castleford and Westin Drives in Huddersfield.
 
Here's what they had to say:

Shaun Sutton, Director, Central Group.
"EMiR has always been a valuable system for us and takes care of the day-to-day running of our business. With Workshop Routing on-board we will extend that process across all areas of our business and ensure our data collection is instant and available."

Annette Boulter, Group Finance Director, Hidrostal. "In only 3 years of use, EMiR has made our business so much simpler. Moving from a more complicated system that simply didn't give us the results, EMiR has been a revolution. Last year we worked with the EMiR team to create a financial paper-free process that works and we can all see the benefit. With the introduction of Workshop Routing, paper-free processing throughout the business is now a real possibility."

Warren Parker, Operations Director, Westin Drives. "As we move to larger premises over the next few months to accommodate expansion, the visibility of tracking individual repair jobs daily across our site is another element we will need to address. We have long wanted to capture key technical and test details of jobs straight from the workshop floor and with Workshop Routing this will be a reality for us."
Related Links and Downloads