New Website Feature!
Have you noticed the new 'Get Support' widget on our website? Take a look at how to use it here!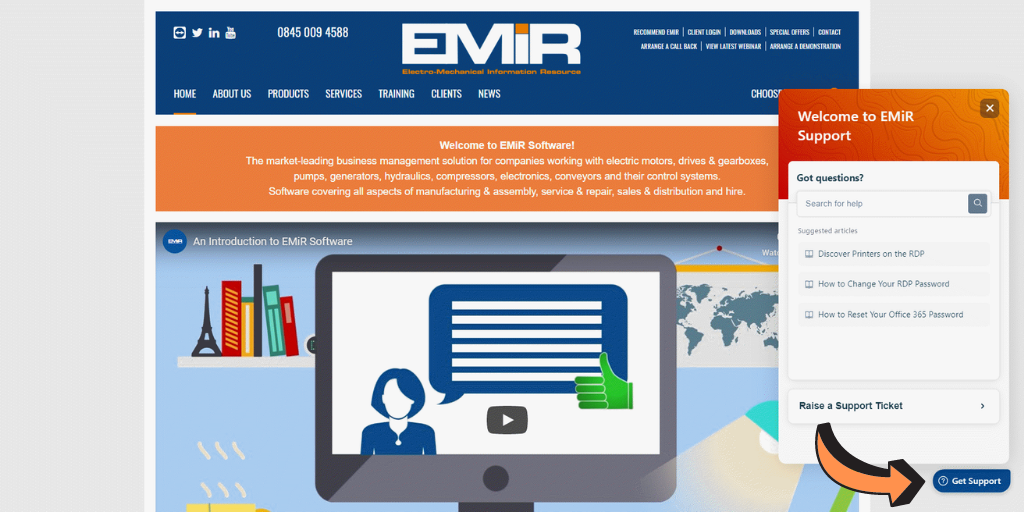 What Is It?
In the bottom right corner of our website there's something new! Our 'Get Support' widget is there to help when you have a question or issue with EMiR! It gives you limited access to our knowledge base which is full of help articles, guidance and tips for EMiR and EMiR-Cloud!
How to Use It
All you have to do is tap the button and you'll see the option to search our knowledge base or raise a support ticket. Before you email support with your question, you should search the knowledge base first, as you might be able to find the answer out for yourself and get a quicker response! if you can't find an answer or have a further question, simply raise a support ticket straight through the widget!
We're constantly adding to the knowledge base so be sure to check back each time you have a query as the answer may have been added.
To get full access to our knowledge base, tap the Customer Support link at the top of our homepage and create an account! Creating the account will allow you to see everything in the knowledge base, plus you'll be able to see a full history of the tickets you've raised since we began using our support portal! You can see the status of ongoing tickets, and the detail of past tickets.
Take a look at this video to see it in action!
Related Links and Downloads