Smart Site Version 4.2.4
19/03/18 Important new release information
Version 4.2.4 on General Release

The EMiR development team are pleased to announce that there is now an updated version of Smart Site (4.2.4) both iOS and Android, available free to existing Smart Site users.

Smart Site, the popular smartphone application that connects the site engineer with their EMiR back office system has improved continually since its release in June 2016. Providing an engineer with a data-enabled smartphone is now not only cost-effective, but a simple solution to eliminating the delays created by paper-based job information and time sheets.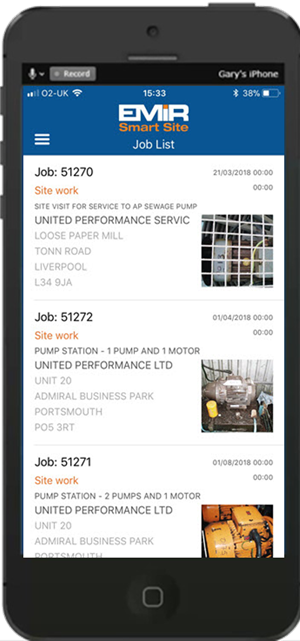 Smart Site intelligently delivers the job and its information to the engineers Smart Phone. The engineer records actions taken, any time, spare parts and photographs relating to the work. Working within health and safety and service checklists shown on the phone the engineer performs the tasks and reviews completion with the customer before receiving a signature on screen. Completing the work updates EMiR and makes all of the information visible from the office with no other interaction.

No timesheets. No paper. On Smart devices all of your engineers already use.


In this new version 4.2.4, the user can expect:
You can now assign multiple service checklists to a job [E.g. Several Pumps and Motors] and the site engineer can complete them in turn and also re-title them.
Ability to multi-select images from your camera roll and add them to Smart Site job in one go.
The option to zoom view on Photo's on Smart Site.
The job listing now shows the Type / Description field for each job.
The job list shows start and end time for bookings [if using Labour Scheduling].
Time on sign off page now show in hours and mins.
Total time on job now includes Travel Time.
Job comments [in Job Info section] can now be set to be unlimited text fields in EMiR and Smart Site.
The Customer Ref and Order No field now show on the customer sign off page.
If you use the Service Centre / Site Work options within EMiR, these are reflected on the job listing.
Option to hide costs from the spares listing.
Spell checker on all notes / text fields.
Larger window for sign off page.
Allow re-use of Completed Jobs
And many more!
You can find out more about EMiR Smart Site by speaking to us. We have brochures, videos and a test system, so you can see how this easy-to-use software application in the palm of your hand can save you time and make work out in the field visible.
Related Links and Downloads