Working with Salad Skills
24/01/19 Apprentice Josh Bottomley completes his training
Just over a year ago EMiR Software decided to bolster its work force by adding to its newly formed hosted server department. As a software business, the need to offer their clients a managed IT infrastructure through a hosted server partner has steadily increased over recent years and it was important to find the person with the right skills for the new role.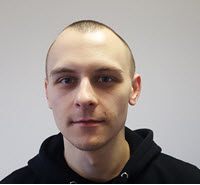 (Above: Josh Bottomley Level 3 IT Technician working on Hosted Servers and Remote Data Back-up)
Fortunately for Solutions in I.T. Limited (author of EMiR Software), they have apprenticeship recruitment specialists Salad Skills alongside them in the Harborough Innovation Centre and they took on the challenge and helped Gary to resource candidates for the business. Following an assessment Josh Bottomley was hired as an apprentice Level 3 IT technician.
Gary Downes recalls, "It is never easy and often time-consuming going out to the market to find a suitable labour force, but a few conversations with Sarah and Jo at Salad Skills removed the perceived bureaucracy and made the whole process simple."
Working primarily through electronic learning and with the guidance of his tutors, Josh has completed his coursework and will soon, well within his targeted apprenticeship time, become qualified and move to a full-time position within the EMiR team. He's a great ambassador for apprenticeships and has certainly earned his stripes. "I have been really impressed with Josh's efforts on the training. He has worked hard to pass all of the exams, clearly taking it seriously, and communicated well with me when he has been struggling with a concept. I wish all apprentices were like him," commented his tutor, Gordon Davies.
Related Links and Downloads