Alpha Electrics Admin Functions
05.06.2021 Alpha Electrics recently installed our Task Centre Extension...see what benefits they are already seeing!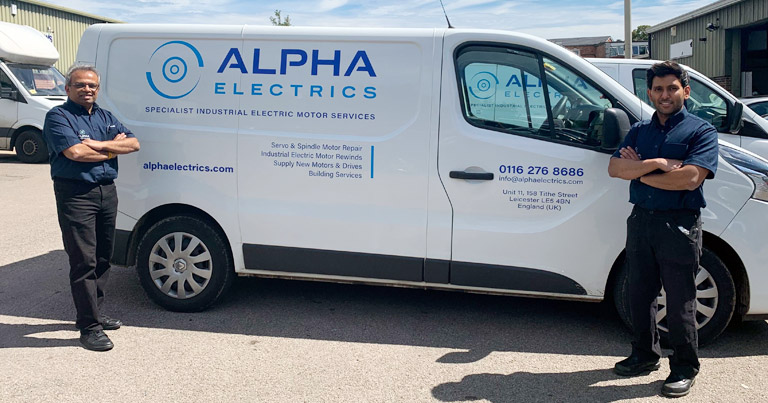 Established more than 30 years ago, Alpha Electrics are a diverse repair and maintenance company specialising in motor & servo rewinds and repair, engineering services, the production of controls systems and a wide range of building management services.
"We are constantly evolving and seeking ways to change, improve and develop our services, in a drive to become more specialist and maintain our position as experts in this field. That is why we now planning for the next phase of the business. We started by revisiting what has got us to where we are now and have then used these values to help devise a strategy to further grow the business." - Rajesh Patel, Company Director
EMiR software, the electro-mechanical service solution, was installed at Alpha Electrics in 2012 as part of their drive to formalise the way that work was handled and has continued to be the main source of answers for the business ever since. In 2020, as part of Alpha's continual development programme, Hem Patel approved the purchase of EMiR Task Centre to take all communications to a new level.
Task Centre is a BPM – Business Process Management tool that uses the live data in your EMiR system to send messages and alerts about the state of play to important stakeholders in your business. Task Centre brings an Amazon-style delivery capability to each aspect of business processing, by punctuating completed operations with automated messages.
"Hands down, Task Centre is like having an extra person in the office." -Hem Patel, Company Director
Phase 1 of the installation included:
Despatch Notification – when a job is finished, the customer gets an email to tell them when they are receiving the item and by what delivery method, resulting in a significant reduction in the number of customer phone calls asking for information.
Chasing Supplier Delays – items on order with a supplier that do not arrive on their specified date are automatically emailed requesting clarification. As Hem explains, an item that isn't urgent can become critical to an operation if this isn't kept in check. The automated email from Task Centre puts the supplier on the spot without further delay.
Overdue quotes – chasing the client for answers or updates on outstanding quotes is a labour intensive role for the sales person. Although further calls may be made to the client, the automation of the quote statement is a gentle reminder of what needs to be decided.
Booking in Report – at 6 am each morning Task Centre compiles a report for company managers to show all of the work booked in the previous day. This information is an instant appraisal of the additional workload and ensures that items that have arrived in the workshop are not missed.
Task Centre is a configurable asset in the EMiR system and comes with 15 pre-built alerts already in operation by EMiR users. It enhances over 25 years of innovation and functionally in EMiR which has been designed specifically for the electro-mechanical industry. Click here to find out more about Task Centre and how it can help your business!